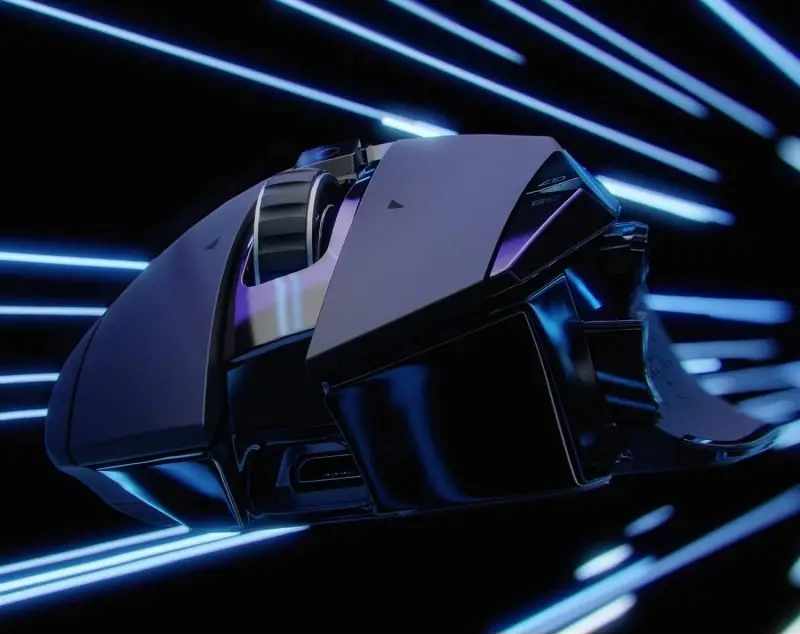 LIGHTSPEED® Technology
The Logitech G502 Lightspeed wireless mouse is one of the top devices in the premium hardware lists, in each generation this model has managed to surprise with its features.This model, the G502 focuses more on the most important games of the moment with the integration of LIGHTSPEED technology, video games such as Warzone, Fornite or any of the e-Sports will perform as efficiently as possible.Thanks to its sensor Hero 25K which provides a higher level of precision, this device is also compatible with the POWERPLAY This technology together with the mouse achieves a significant reduction of latency in its weight of 7 grams.
SENSOR HERO 25K
The sensor Hero 25k is one of the most outstanding sensors of this generation can achieve recognition and tracking speeds of up to 400 fps across the 25600 dpi range and up to 10 times the energy efficiency of previous generation devices.This proves that the gaming sensor gives better performance when enjoying your favorite titles and so far the best option Logitech has in terms of performance. gaming mouse.This sensor also allows the reduction of the weight of the device thanks to a relationship with the size of the battery and its relationship with the surface area.

Enjoy wireless charging with POWERPLAY from Logitech G502 Lightspeed
This mouse is compatible with POWERPLAYLogitech's gamer mat, which wirelessly charges devices, you only have to have the mouse on the mat and it will always be charged, without having to do anything else.Just plug in the mat (POWERPLAY) and you can use the mouse wirelessly indefinitely without the need to charge it..

Buy on Amazon
What does the Logitech G502 Lightspeed include in the box?
Here is everything that is included inside the Logitech G502 Lightspeedbox, you can see more details if you put the course on the "+" sign
A simple personal opinion 
He utilizado el Logitech G502 Lightspeed por alrededor de un año y la verdad no podría estar más contento anteriormente tenia el Logitech mx master 2 y la verdad también era muy buen mouse pero no era el más óptimo para jugar.Las cosas que salen a relucir de este G502 son las funciones que le puedes añadir a los botones, en cada juego puedes añadir diferentes perfiles gracias al Software G HUB.Por ejemplo si vas a jugar a Warzone, puedes tener los botones mapeados especialmente hasta para hacer ráfagas de disparo, pero si vas a jugar otro juego como Starcraft, puedes hasta programar las funciones de producción de unidades, algo que sin duda viene muy bien en las partidas.Otro detalle importante en los juegos es que la resistencia que tiene la rueda de scroll es fuerte lo cual es de gran utilidad para cambiar de arma en distintos shouters.En lo pesado no lo sienten tan ligero como como algunos cableados, aunque en inalámbricos si es de los más livianos.La única pega que le puedo encontrar es su costo, puedes comprarte el cableado y ahorrar un poco más pero flexibilidad que tienen el ser inalámbrico para muchos vale la pena esa diferencia de precios. en Gamer Pro Factory tratamos de ser lo más sinceros posible en nuestra reseñas.

Characterize yourself more important
In the following image you can see the most important features of this mouse, although I feel that it lacks the stiffness of the scroll wheel that certainly comes in handy when playing with shooter and make weapon changes.

Vide Trailer del Logitech G502 Lightspeed
You can see the announcement trailer of this product below, the truth very well done and so you can see a more commercial way to appreciate this mouse that is undoubtedly one of the best that exist for gaming today.

We hope that this information has been to your liking and if you want to buy it you can do it in the links that we put to amazon, it is a product that certainly you will not regret to acquire it.