Description of the ROG Zephyrus Duo
To start with the ROG Zephyrus Duo SE, we have this cool 15 Inch screen but the best and what identifies this device is that we have 2 screens in this laptop and that is why it is called duo.
The bottom screen is inclusive Touch and we can configure it in different ways, it is very interesting because the included software is fully customizable. Asusbut it blends completely well with the Windows ecosystem.
We can put things on each or full screen on the 2 screens, it is quite interesting how these features can be used to improve productivity and definitely for a laptop.
Generally I like to have more than one monitor so having them included in a kit is awesome.
There are still even external monitors from Asus that you can buy to have 3 screens or a normal monitor that you can have in the place where you come to work, but if you are going to work on the go this is a laptop that is very interesting in terms of capabilities.
ROG Zephyrus Duo SE Keyboard
We have the keyboard shifted to the bottom which we have fully RGB on the side we have the trackpad which can be changed to numeric.
Although using it as a numeric is a bit odd, it is a nice feature to have, you can also use some other special settings on the trackpad.
Technical specifications of the ROG Zephyrus Duo SE
For this version we have an AMD Ryzen 9 5900HX processor. You can find it in configurations up to 32 Gigas of DDR 4 RAM.
Remember that this is a Gamer laptop so we also have configuration with maximum RTX 2080 Super with Max Q design, so it can be as thin as this laptop is and it has a pretty slim factor.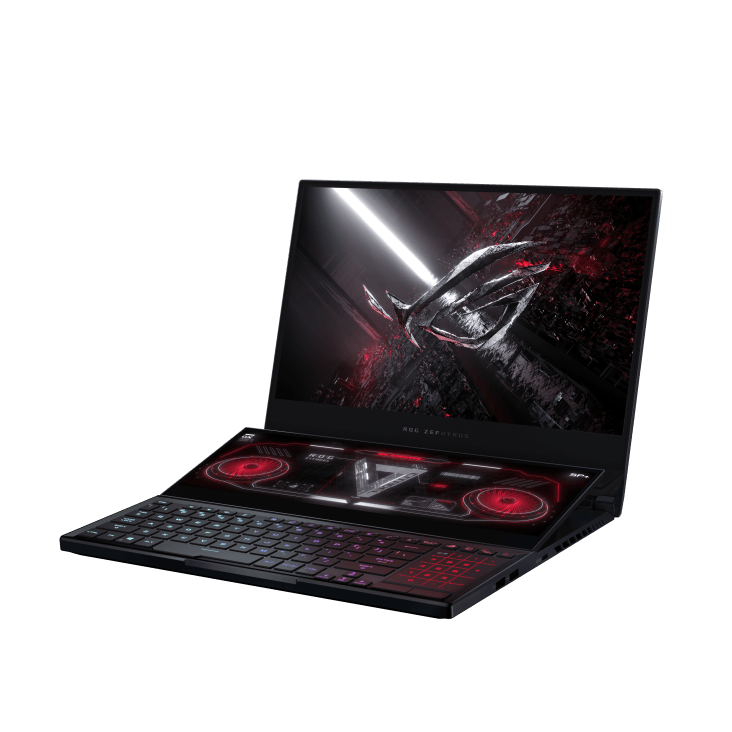 Wrist rest
When you buy the device you get a plastic that at first glance you do not know what it is, it is a little rubbery and very plastic, it is nothing more than a wrist rest, you can use it to write more comfortable or not.
You can carry it in your backpack with your laptop, but if you are one of those who do not like to complicate your life like me you will probably leave it lying in a place and never use it, but it is very appreciable that they have included this wrist rest.
ROG Zephyrus Duo SE connectors
If we go to the left side of the equipment, we will find separate audio connectors for microphone and headphones.
The charger port, and while we're on the subject of the charger it's a fairly large 240W Power brick, but it's going to help power this laptop which has a lot of power.
On the back it has ports, that's very interesting because we have an HDMI output, we also have a USB 3.0 type A port, we are also going to find a Gigabit Ethernet port.
On the other side, there are 2 USB type A ports but they are on the right side so if you are right handed you will be hitting them if you use an external mouse.
Besides that also here is the USB type C output which also gets in your way because if you put a hub whatever you put on that side is going to get in the way.
For my taste it would have been better if everything had been placed on the back to avoid contact with the hand and the external mouse.
We also have heat vents here on the sides so your hands will also be warm because it is a laptop that works at high temperatures like all laptops, but that is totally within the measurements that should be good for this equipment.
See price on Amazon
Two Screens
Now let's talk about the screens, let's first go for the Touch screen this is a screen of 550 by 1920 pixels ie it is the same width as above, which is 1080P and well they complement each other.
The second screen is fully Touch and that software helps us move things around and we also have harmony craft for all the other software cooling needs profiles and so on that we have with Asus.
The main panel we have up here is 1080P at 300 hertz so if you play games you will surely appreciate the games.
Remember that we have an RTX that definitely for several titles is going to be super defender with this resolution and with this refresh rate in addition to that because our processor is not going to be left behind at all.
It helps us with bus frequency and so on especially if we use a power profile that is both Asus recommended and high performance.
Remember that they are configurations in Windows, I mean the Asus one allows us to control it from the same application of harmony Creed and I think that's the best of you put the turbo profile, move it and with that you already have the best possible performance.

ROG Zephyrus Duo SE As workspace
Talking about features of the ROG Zephyrus Duo SE we already know that we have 32 gigs of RAM so it can be a workstation and a replacement for your desktop computer.
To be honest, with all that we have just seen the truth is that this is an incredible laptop that has all the hardware there is and there will be.
Any work you want to do on it will go great, whether video editing, photo editing, even Excel spreadsheets, it may not be as comfortable to have a number touch keyboard instead of a mechanical one, but it will serve you well.