HyperX Alloy FPS
When choosing a keyboard purely for gaming, you have probably considered that it should have features such as an excellent design, good lighting, good material, good kickups and above all that it should be mechanical with the best switch system.  The HyperX Alloy FPS keyboard is a keyboard that brings together all these features, you probably already know that it is an excellent brand in the gaming world, being one of the main sponsors of the best teams at the pro level, that is why it is part of the catalog of recommendations of Gamer Pro Factory.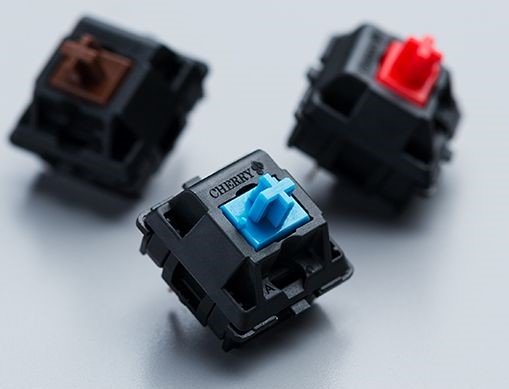 This particular model comes with Cherry MX switches in red, blue and brown, which are ideal for gaming. You can choose the keyboard with the switches you like best, but usually the MX cherry red ones are sold out first, and you can almost always find the blue ones, which certainly have that characteristic clicky sound.  

HyperX Alloy FPS construction
It has a matte black metal frame, which gives it a very nice finish. This keyboard comes with the number pack.  I must say that I understand that the switches on this keyboard can not be changed so be sure to buy the version you want from the beginning, so that later you do not have to change the keyboard completely just for the kickups, and while we are talking about the kickups if we appreciate them from up close we can notice that it is of excellent quality, apparently with double injection manufacturing, so it is expected to last a good time.

The keyboard feels extremely reliable and responsive, and its sturdy solid steel construction ensures a stable platform during the most important gaming moments. The ultra-minimalist design and detachable cable make the keyboard extremely portable, but it still boasts features such as Game Mode, 100% Anti-Ghosting, N-Key rollover, red illumination, and a unique design. HyperX and dynamic effects to accentuate the style of your system, which will certainly come in handy.

Personal opinion of the HyperX Alloy FPS after one year of use
After a year of use I can say that the HyperX Alloy FPS is a good keyboard a little noisy, but with a sound that many like, what has stood out from my point of view is the construction is a keyboard built with very resistant materials, therefore heavy. Although it has no certification against water or anything like that, once it got liquid on it and the keys stopped working, I got scared, took it out in the sun, waited for it to dry and after a few hours of drying, it started working great again, so I ended up very happy. 

Functionality after one year
El teclado HyperX Alloy FPS en el funcionamiento me ha respondido muy bien, tanto para jugar como para el uso diario en diversas aplicaciones. Entre los aspectos que puedo resaltar son que tiene un buen diseño minimalista. Su iluminación es muy buena y se puede personalizar a gusto, aunque no cuenta con variaciones de colores solo rojo.Es muy práctico en cuanto a su instalación, no requiere ningún software para su funcionamiento, su tamaño es muy compacto y su material es muy resistente.Como puntos en contra podría decir que no tiene accesorios como reposa muñeca, pero creo que son detalles mínimos frente a lo que ofrece y creo que puede cubrir las expectativas de cualquier usuario acostumbrado a un teclado de gama alta o para alguien que desea iniciarse con su primer teclado mecánico. Si quieres ver más acerca de teclados Gaming puedes click here.